Careers
If you think you are a team player, enthusiastic, motivated and looking for a new challenge, we are always interested to hear from you. Contact Vicky for an application form and current vacancies.
Our team
At Phoenix Hair it is our intention to provide a relaxed friendly yet professional and welcoming experience for you.
As a salon we pride ourselves in offering nothing but the best advice for you. We are a small team and each specialise in a specific area of hairdressing, we offer specialist Stylists, who concentrate on cutting, styling, hair up, wedding and special occasion hair. We then have the Technical team who specialise in all aspects of colour and perming, extensions, and the most latest fashion, the permanent blow dry.
Lorna - Art Director/Salon Partner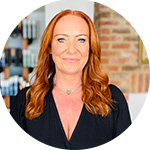 With 20+ year's hairdressing experience behind her, Lorna has a wealth of knowledge to be able to offer the best advice. She has attended various courses, which include Toni and Guy cutting courses, GHD styling and Patrick Cameron Hair Up. One area that Lorna likes to specialise in is wedding hair. Most recently she has attended a course on American Dreams microweft hair extensions.
Tanya - Art Director/Salon Partner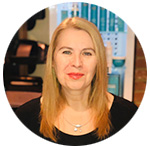 With 20+ year's hairdressing experience Tanya spent 7 years working for a colour company running in house training for salons and also technical courses. She now specialises in all aspects of technical work, ranging from colouring, perming, hair extensions and the permanent blow dry systems. Over the years she has entered national competitions and reached regional finals.
Sally - Senior Stylist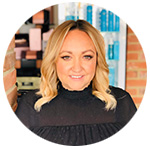 Sally has worked in hairdressing for 13 years. She started here as a Saturday girl, went to college full time and then qualified with her NVQ. She has continued with courses such as Toni and Guy, barbering courses and long hair workshops with Patrick Cameron . She is part of the wedding team also. She has also made it through to the L'Oreal regional finals. Her most recent achievement was the birth of her first child. Since having her first child sally continues to work on a part time basis.
Emily - Senior Stylist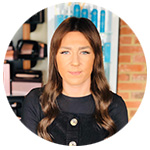 Emily has worked with us for 8 years. She has achieved both her NVQ level 2 and 3. She has attended barbering courses, long hair workshops and has also reached the regional finals of the L'Oreal men's competitions. Emily is a fun and lively member of our team, one aspect of hairdressing that Emily enjoys is the conversation and interaction she has with her clients.
Aggi - Art Director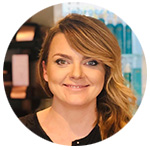 Aggi has over 20 years hairdressing experience and joined us in 2017. Originally from Poland Aggi has completed many course but most recently attended Goldwell advanced colouring. She specialises in creative techniques of both cutting and colouring. We would describe Aggi as the bright and bubbly team member. She says that hairdressing is something she is really passionate about and loves to be creative.
Megan - Top Stylist/Top Technician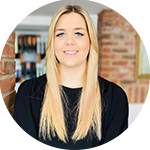 Megan joined us in 2017 and is qualified in level 2 NVQ. She works across the board both cutting and colouring. In 2017 she completed an advanced cut and colour course and most recently this year attended a barbering course which is something she would like to do more of.
Vicky - Salon Manger/Front of House
Vicky has joined us with over 20years Salon Front of House experience. She has attended various courses including Tigi retail and management training, window display and social media workshops.
Charlotte - Stylist/Technician
Charlotte has worked with us for 3 years. She has recently completed her NVQ level 2 hairdressing in 2017 and is now working on building her own clients. She is interested in both cutting and colouring. She says she particularly enjoys the creative side of colouring such as the rainbow colours, she also really enjoys blow drying.
Our Salon Apprentice - Megan/Dione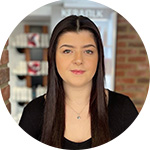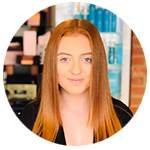 Our Salon Assistants - Georgia/Maisie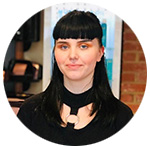 Our latest news/offers
News published: 7/7/2020
...
Refer a friend!
We have a Refer a Friend Scheme.
Both you and your friend receive 25% OFF either your cut or colour when you refer someone new to the salon. Pop in and ask for a refer a friend card.
Our loyalty scheme
Earn points for every £1 spent and redeem points against your favourite hair products, treatments and services.
For more information on our loyalty scheme and promotions please click here