KeraStraight
Gorgeous Hair Made Easy for you!
Using advanced protein technology, KeraStraight Ultimate Treatment is a game changer, transforming the shape and condition of all hair types.
The unique combination of low pH proteins will renew dry, damaged and weak hair, transforming it completely into healthy, straighter and stronger hair that both looks and feels amazing.
These incredible repairing agents rebuild the hair with added strength, vitality and shine providing a smooth, soft and straighter finish that lasts for up to 4 months, gradually fading from the hair.
The innovative treatment will give you the hair you've always wanted.
Ask your KeraStraight Expert today about how KeraStraight can deliver gorgeous hair made easy for you.
Suitable for all hair types
Strengthens & repairs hair, to the very last tip
Eliminates frizz
Humidity resistant
Formaldehyde-free
We could show you professional photos of the finished look from KeraStraight and what it can do for you. But even better is for you to see exactly what results you can achieve once you have had the KeraStraight Ultimate Treatment.
The pictures you see below are of a client who has always struggled with curly, slightly unruly hair, which has always taken her a long time to blow-dry and then straighten to get the look that she wanted.
As you can see from these before & after pictures just by finger drying the hair what our client was able to achieve, no big blow-dry or straighteners have been used to achieve this look. The KeraStraight has now reduced the time that our client spends blow-drying and finishing her hair. She can still use straighteners to give the hair a sleeker finished look; however, the pictures are here to show you exactly how much hard work and time has been taken out of the blow-dry.
KeraStraight is designed to make your life easier!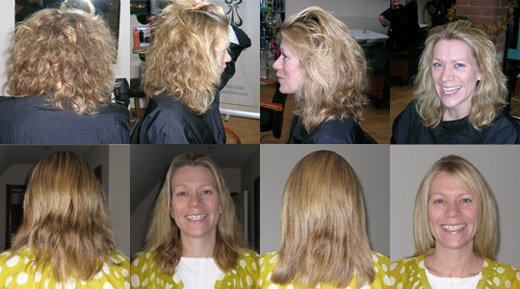 Prices start from £128 dependant on hair length and thickness.
As a first-time client, please take advantage of our 'Kerastraight Home Care Package'
introductory offer - £60
Includes:
KeraStraight Moisture Enhance Shampoo
KeraStraight Moisture Enhance Conditioner
KeraStraight Ultimate Oil